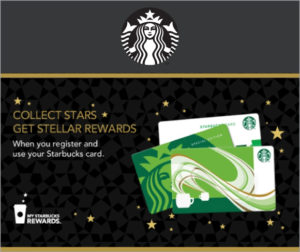 Starbucks Rewards
Date TBD
ALL Day
More than great drinks. Great rewards.
Enjoy all this and more with your membership to our Loyalty Program:
Free drink or food rewards (some restrictions apply)
Custom offers on items you enjoy when you opt in to receive My Starbucks Rewards® email
Early access to new products
Easy payment with our mobile app
Here's how it works
To enjoy free drink and food rewards, you'll need to earn Stars. Get Stars when:
You pay at a participating store with your registered Starbucks, Teavana or La Boulange Card or the mobile app
You buy specially marked Starbucks® products where you buy groceries
You buy coffee or tea products at Starbucks Store online
Collect more Stars, earn more rewards.
Joining is easy. Have a Starbucks, Teavana or La Boulange Card handy to create an account. Track your Stars online or through the mobile app, and we'll send an email when you've earned a reward.